The Seven Flags of the New Orleans Tri-Centennial
Elbridge Gerry
Signer of the Declaration of Independence
ELBRIDGE GERRY was born July 17, 1744 in Marblehead, Massachusetts. His father, Thomas Gerry, was a former sea captain from Newton, England, who in 1730 came to America and established himself as a shipping and import merchant. Elbridge, the third son in a family of twelve, was a slender young man with a slight stammer in his speech. He planned to become a physician, but soon after he graduated from Harvard in 1765, he joined his father and brothers in the mercantile business, and carved out a considerable fortune for himself as a merchant.
Gerry's public life began in 1773, when he sat in the general court of Massachusetts bay, as the representative of Marblehead, and from this time until his death in 1814, he was, with short interruptions, in continuous public service. In May of the following year, Mr. Gerry was re-elected to the same office. During the general court that year, Samuel Adams introduced his celebrated motion for the appointment of a standing committee of correspondence and inquiry. Though one of the youngest members, Gerry was appointed a member of this committee and he took an active and prominent part in the committee's proceedings.
Gerry was enraged by the Boston Tea Party, which he saw as a "savage mobility" of fellow colonists. He left politics for a time, however, his absence was short lived. Once the Boston Port was closed to shipping, Gerry was convinced by Samuel Adams to again aid the movement for independence. This he did admirably, supervising the relief operation. As a member of the committee of safety, he helped to direct the armed resistance against the British. He rounded up ammunition, food, clothing and troops for the army at great personal sacrifice.
Throughout his life, Gerry, though concerned to protect property interests, was anti-British in sentiment and fearful of tyranny. He shared the dangers from the British march on Lexington and Concord when during the night of April 18, 1775, he escaped a detachment of redcoats by fleeing in his nightclothes from an inn at Arlington into a cornfield.
Gerry's fellow citizens elected him delegate from Massachusetts to the Continental Congress. He took his seat on February 9, 1776, as a replacement for Thomas Cushing, who had been dropped as a delegate. He continued to be a member of Congress until September 1785. Gerry cast his vote for independence but was absent from Congress on August 2, the formal day of the signing of the Declaration. He did not place his signature on the document until November 19, 1776, a few months after his return.
During his service, he was appointed to serve on many committees, whose business required great effort, and whose results involved the highest interests of the country. He assisted in arranging the plan of a general hospital, and of introducing better discipline into the army; and regulating the commissary's departments. In several instances, he was appointed, with others, to visit the army, to examine the state of the money and finances of the country, and to expedite the settlement of public accounts. In the exercise of his various official functions, no man exhibited more fidelity, or a more unwearied zeal.
He married Ann Thompson, a respectable lady who had been educated in Europe, with whom he returned to Massachusetts, they made their home in Cambridge, a few miles from Boston. Ann bore him three sons and four daughters, all of who survived him.
Retiring from Congress in 1793, Gerry was nominated in 1800 for governor and in a close election Caleb Strong defeated him. In 1810 his efforts for the same office were rewarded with success and he served for two terms. In 1812 he was nominated for the vice presidency of the United States on the ticket with Madison and elected to that office. He died suddenly November 23, 1814 in his carriage on his way to preside over the Senate.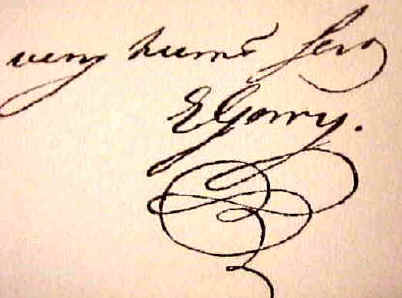 Source: Centennial Book of Signers
For a High-resolution version of the Stone Engraving

For a High-resolution version of the Original Declaration of Independence
We invite you to read a transcription of the complete text of the Declaration as presented by the National Archives.
&
The article "The Declaration of Independence: A History," which provides a detailed account of the Declaration, from its drafting through its preservation today at the National Archives.
Virtualology welcomes the addition of web pages with historical documents and/or scholarly papers on this subject. To submit a web link to this page CLICK HERE. Please be sure to include the above name, your name, address, and any information you deem appropriate with your submission.
Click Here to return to Rebels with of Vision
Elbridge Gerry
From Wikipedia, the free encyclopedia



---

In office
March 4, 1813 – November 23, 1814
President
James Madison
Preceded by
George Clinton
Succeeded by
Daniel D. Tompkins

---

In office
June 10, 1810 – March 4, 1812
Lieutenant
William Gray
Preceded by
Christopher Gore
Succeeded by
Caleb Strong

---

In office
March 4, 1789 – March 3, 1793
Preceded by
None
Succeeded by
Shearjashub Bourne, Peleg Coffin, Jr. and David Cobb (General ticket)

---

Born
July 17, 1744(

1744-07-17

)
Marblehead, Massachusetts
Died
November 23, 1814 (aged 70)
Washington, D.C.
Political party
Democratic-Republican
Spouse
Ann Thompson Gerry
Alma mater
Harvard College
Religion
Episcopalian
Signature
Elbridge Thomas Gerry (pronounced /ˈgɛri/) (July 17, 1744 – November 23, 1814) was an American statesman and diplomat. As a Democratic-Republican he was selected as the fifth Vice President of the United States of America, serving under James Madison, from March 4, 1813 until his death a year and a half later.[1] He was the first Vice President never to run for President of the United States.
Gerry was one of the signers of the US Declaration of Independence and the Articles of Confederation. He was one of three men who refused to sign the Constitution because it did not then include a Bill of Rights. Gerry later became Governor of Massachusetts. He is known best for being the namesake of gerrymandering, a process by which electoral districts are drawn with the aim of aiding the party in power, although the pronunciation - jer - differs from the pronunciation of Gerry's name (see Gerrymandering#Etymology).
Early life
Born in Marblehead, Massachusetts, the third of twelve children, he was a graduate of Harvard College, where he studied to be a doctor, attending there from age fourteen. He worked in his father's shipping business and came to prominence over his opposition to commerce taxes. He was elected to the General Court of the province of Massachusetts in May 1772 on an anti-British platform.
Career
Gerry was a Massachusetts delegate to the Continental Congress from February 1776 to 1780. He also served from 1783 to September 1785 and was married in 1786 to Ann Thompson, the daughter of a wealthy New York merchant, 21 years his junior. In 1787 he attended the United States Constitutional Convention and was one of the delegates voting against the new constitution (joining George Mason and Edmund Randolph in not signing it). He was elected to the U.S. House under the new national government, and served in Congress from 1789 to 1793.
He surprised his friends by becoming a strong supporter of the new government, and so vigorously supported Alexander Hamilton's reports on public credit, including the assumption of state debts, and supported Hamilton's new Bank of the United States, that he was considered a leading champion by the Federalists. He did not stand for reelection in 1792. He was a presidential elector for John Adams in the 1796 election, and was appointed by Adams to the critical delegation to France that was humiliated by the French in the XYZ Affair. He stayed in France after his two colleagues returned, and Federalists accused him of supporting the French. He returned in October 1798, and switched his affiliation to Democratic-Republican Party in 1800.
He was the unsuccessful Democratic-Republican nominee for governor of Massachusetts in 1800, 1801, 1802 and 1803. In 1810 he was finally elected Governor of Massachusetts as a Democratic-Republican. He was re-elected in 1811 but defeated in 1812 over his support for the redistricting bill that created the word gerrymander. He was chosen as vice president to James Madison. He died in office of heart failure in Washington, D.C. and is buried there in the Congressional Cemetery.
Legacy
Gerry's grandson, Elbridge Gerry (1813–1886), was a Member of the U.S. House of Representatives from Maine; his great-grandson, Peter G. Gerry, was a Member of the U.S. House of Representatives and United States Senator from Rhode Island.
In 1812 the word Gerrymandering was coined when the Massachusetts legislature redrew the boundaries of state legislative districts in order to favor Governor Gerry's party. The Governor's strategy was to encompass most of the state's Federalists, allowing them to win in that district while his party, the Democratic-Republicans, took control of all the other districts in the state. The term eventually became part of the American political vocabulary, and the practice is still in use today.
The upstate New York town of Elbridge, sitting just west of Syracuse, NY, with a population of roughly 6,000 is named in his honor, as is the western New York town of Gerry, in Chautauqua County, between Buffalo, NY, and Jamestown, NY, with a population of about 2,000.
Quotes
"The evils we experience flow from the excess of democracy. The people do not want virtue, but are dupes of pretended patriots"[2]

The Congressional Evolution of the United States Henry Middleton
Unauthorized Site: This site and its contents are not affiliated, connected, associated with or authorized by the individual, family, friends, or trademarked entities utilizing any part or the subject's entire name. Any official or affiliated sites that are related to this subject will be hyper linked below upon submission and Evisum, Inc. review.
Copyright© 2000 by Evisum Inc.TM. All rights reserved.
Evisum Inc.TM Privacy Policy