The Seven Flags of the New Orleans Tri-Centennial
George Walton

Signer of the Declaration of Independence
GEORGE WALTON was born in Frederick county, Virginia in 1741 and was left an orphan when still a small child. His uncle reared him until he was old enough to be apprenticed to a carpenter. Walton was entirely self-taught; his employer would not permit him the use of a candle to read at night, but in his zeal for knowledge, Walton found a substitute in pine knots. When his master realized that young Walton had other talents worth pursuing, he released Walton from his contract. Walton moved to Savannah Georgia and studied law with Henry Young. He was admitted to the bar in 1774 and began his practice at Augusta.
While Georgia for the most part remained loyal to Britain, Walton zealously supported the cause for independence and did not hesitate to make his feelings known in business or social circles. Walton was one of four people who called a public meeting at Savannah on July 27, 1774, for the purpose of hearing public grievances against the crown and he was one of a committee that was appointed on that occasion to correspond with the other colonies in opposition to the British government.
In 1775, Walton married Dorothy Camber and they eventually had two sons. That same year he was also chosen as president of the newly created council of safety. Early in 1776, Walton was sent to the Continental congress and he quickly gained recognition and the respect of his colleagues. He was re-elected the following October and until October 1781, he continued to represent Georgia. Walton favored a strong central government for America and it was this conviction that led to his friendship with Robert Morris and George Clymer. When the Second Congress had to retreat to Baltimore, Morris, Clymer and Walton remained in Philadelphia, risking capture by the British, and created an effective, informal war office. In December 1778, Walton was appointed a colonel in the militia, commanding a battalion on the right of General Robert Howe's army when the British took Savannah. Walton was wounded in the thigh, fell from his horse, and was taken prisoner by the British troops. A brigadier-general was demanded in exchange for him, but in September 1779, he was exchanged for a captain of the British Navy.
In October 1779, Walton was appointed governor of Georgia for several weeks before the British took it over. He was appointed chief justice of the state in 1783, and he held other judicial posts, being a notable supporter of law and order in his rather turbulent state, that was then in a frontier stage. In 1789 he was elected again governor of Georgia and in the last decade of his life he filled an un-expired term in the United States Senate.
During the latter years of his life, Walton suffered intensely from frequent and long attacks of gout, which probably contributed to his death. He died at Meadow Garden, his home in Augusta Georgia on February 2, 1804.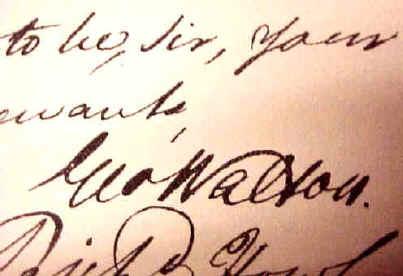 Probably the future historians of the United States of North America will justly consider, as a fact worthy of record in the national annals, the large proportion of self-educated men, who were found among the leading revolutionary patriots, both in civil and military life ; and especially of the individuals who composed that congress which declared the nation free and independent. It is certain that several of them in their youth enjoyed but limited advantages; even of those who were placed at schools by their parents, by reason of the small advantages which those schools could afford. Yet these were liberally furnished, compared with some of their colleagues, who made a distinguished figure in public life, were eminently useful to the national councils, and attained to the highest honors, and the most important offices that their several communities had the power of conferring on their ablest citizens. These remarks are elicited by an attention to the history of the life of the gentleman, whose name stands at the head of this article.

George Walton, the subject of this memoir, was a native of Virginia, and born in Frederick county, about the year 1740. His parentage was obscure ; and probably in limited pecuniary circumstances, he having been placed as an apprentice to learn the business of a carpenter. At the proper and most appropriate age for commencing the education of youths, what his advantages were we are not particularly informed ; but he was not entirely destitute of instruction. For during his term of service, though his master would allow him neither time by day, nor lights by night, that he might devote what time he could spare from labor, to books; we learn thai he did contrive to cultivate, and improve his mind by reading. For this purpose, he collected torch-wood, and a portion of the night, after the labors of the day were closed, was spent by him in study. He had therefore not only learned to read, but he had a very ardent fondness for it.

His subsequent life supplied him with no other classical advantages, than what he derived from the resources of the own unaided exertions. Notwithstanding all these impediintuits, which would have disheartened the resolution of most youths, he persevered in this manner in improving his mind by reading such books as he could procure, to the close of his apprenticeship. And when he was released from the obligation of his indentures, he was possessed of such a share of knowledge, practical, and theoretical, that he removed to the province of Georgia, and commenced the study of Jaw with Henry Young, Esq.; a gentleman whose character, both professional and political, was distinguished in that colony.

Mr. Walton commenced the practice of law in 1774, at the time when opposition to the oppressive proceedings of the English parliament, relative to the American colonies, was maturely organized in all -the provinces, except South Carolina and Georgia. But even in Georgia, though generally almost stagnant, it was commenced, and advancing onward to a state of maturity in some districts, excited and direct. ed by some leading men of decided patriotism, and superior intelligence. With some of these Mr. Walton was associated, and those kindred spirits determined to rouse the whole people of that province, to feel and act with the patriotic inhabitants of the other colonies, notwithstanding the counter influence they had to combat. Mr. Young, law preceptor of Mr. Walton, was a decided advocate for the royal cause. But his independent mind would not be controlled, nor even influenced to act against his own views of right. Nor would he yield to any inducements which the state of the times presented, to allure young men of decided talents and influence, even to forbearance or neutrality. The rights of his fellow citizens were jeopardy; and the times demanded decision, and active exertions from all their friends, to vindicate and defend them against lawless usurpation, under whatever sanctions it might be attempted. Mr. Walton therefore voluntarily sacrificing all the flattering prospects placed in his view, and proffered as a reward for his adhesion to the royal interest, united with other gentlemen of similar feelings, in lending an open opposition "to the then ruling powers of Georgia, and committed his rising hopes and fortune, amid no small danger to the very problematical issue of a controversy, in which the vote of a rebel against his rightful sovereign might be the consequence. He took his position on the side of the colonies, and undeviatingly pursued the straight forward course which that indicated.

The parlies were now clearly defined, and in open opposition ; although the patriots were, hitherto, but a feeble minority when numerically considered. Their measures were opposed, and greatly embarrassed by the temporizing policy of the royalists. But they were not to be frustrated; and by a resolute perseverance, they at length succeeded in obtain ing a decided majority in the legislative assembly in their fa vor; and this event was, undoubtedly hastened forward, by the result of those measures which their opponents pursued with the British parliament. The contemptuous and negligent treatment they experienced, and the unceremonious rejection of their petitions and remonstrance by parliament, wrought a counteraction, and roused a spirit of determined opposition and resistance, in many, who a short time previous, were in favor of a cautious, timid, and temporizing policy. They soon united with those who had been forward in Georgia ; and they together, brought the colony to act in unison with all the other provinces, in making resistance a common cause throng!) the thirteen American colonies. Immediately a committee ff safety was organized in Georgia, to superninend and manage the concerns of the patriotic party; and to hold correspondence with similar committees in other colonies. The next and deciding measure, was soon adopted. The convention of Georgia acceded to the general confederacy, and elected their delegates to the continental congress. Opposition to the British influence and authority soon' attained its zenith in Georgia. A majority of the legislature were so strongly indignant at the treatment they had experienced from the parent government at home, that they totally disregarded the communications made to that body by Governor Wright. They appointed Archibald Bullock, a resolute man, and a decided patriot, president of the executive council. He had already, with four colleagues, been elected a delegate to congress. This act of the legislature, together with the en. tire disregard his communications met with, so incensed the royal governor, that he threatened to resort to military force, to compel them to act. The suggestion so manifestly implied in that menace, increased their indignation to such a degree, that they resolved to seize on his person, and hold him in custody. This having been effected, and the governor having forfeited his honor by breaking his parole, the regal power in Georgia was prostrated ; and the confederated hostilities with the parent state, was completed by embracing the whole of the thirteen provinces. In effecting this consummation, so long and so ardently desired, Mr. Walton stood forward with the other leading characters, and actively used his best exertions.

Mr. Walton was appointed for the first time a delegate to congress, from Georgia, by the state legislature, the beginning of February, 1776. He was again honored by a re-election to the same office, in October following. He reached Philadelphia on the last day of the session of congress, before they adjourned to Baltimore, to avoid the danger of being captured by the British army, who were approaching that city. At the time of their adjournment, it was highly necessary to have a committee remain in Philadelphia, invested with an important trust, requiring them to transact business of much, interest to the public. This committee consisted of Messrs. Clymer and Morris of Philadelphia, and George Walton of Georgia. He was appointed on the third day after his arrival. This was a testimony of the confidence reposed in him by congress, which, under all the circumstances connected with his previous history, was highly honorable to his uhameter, and must have been grateful to his feelings. Their principal trust was of great pecuniary value, and connected with other duties of a delicate kind. But, important and delicate the trust was, it was discharged to the entire satisfaction of congress. Indeed, peculation and frauds by public officers, in that age of stern virtue, would have fastened of their perpetrator such an indelible stain, as would have ruined them forever, in the estimation of the whole community.

He was successively re-elected to congress in the years 1777, 1778; and again in 1780. He was placed on the marine committee, appointed a member of the treasury board, and placed on several committees of minor importance by congress; in performing the duties of which he was a vigilant and active member, always evincing much useful intelligence, and great zeal in behalf of the cause he had espoused. While performing his civil functions in the great council of the nation, whose independence he had advocated and proclaimed, he was placed in military rank, in the year 1778, and appointed to the command of a regiment of militia. He appeared at the head of a battalion in General Howe's army, when Savannah was attacked by the British. In that engagement, while gallantly leading the troops under his command, to defend the place, he received a wound through his thigh, fell from his horse, and was taken prisoner by the enemy. He remained on parole until recovered from his wound, and then was sent as a prisoner of war to Sunbury. He was afterwards exchanged, and although his rank was no higher than a colonel, and the grade in which he served when taken captive, only that of a major, yet because he was at that time a member of congress, and because he had committed the heinous crime of setting his signature to the Declaration of Independence, the British government demanded in exchange, as an equivalent, a brigadier general. But after they had learned that his term in congress, for which he had been elected the last time, expired during his captivity, they consented to receive in exchange, a captain of their navy for him, who was a lieutenant colonel.

While the British continued to hold possession of Savannah, after the unsuccessful attack of combined forces, under Major General Lincoln, and Count D'Estaing, the legislature of Georgia, in October, 1779, appointed Colonel Walton governor of the state. He did not,' however, retain that office lung; for on the close of the session in Augusta, in January, 1780, he was again elected a member of congress for two years. But in October of the following year, he finally withdrew from congress, in whose counsels he had so long and so faithfully displayed his unbending patriotism, in promoting the cause, and advancing the final establishment of his country's independence and liberty.

By means of some imprudent conduct of President Gwinnett, during his short but brilliant course of public life, a jea-x lousy had risen between him on the one part, and Colonel M'Intosh and a few partisans on the other, which was productive of disastrous consequences in that community, and eventually caused Mr. Gwinnett to fall in a duel, an early victim to false honor. This discordant spirit had extended wide in the society of Georgia; and, for a time, seemed to threaten a total destruction of all harmony in the state. There seems to have existed a mutual jealousy and animosity on both sides. From the unhappy consequences of that state of public feeling, Governor Walton did not escape. He was seriously inculpated, as was supposed, by Gen. M'Intosh. But whether justly or unjustly, remains, and probably will remain undecided. We would willingly withhold the narrative ; but historical justice and truth, require that it should be stated.

As General M'Intosh had become very unpopular with those who supported the civil power, so he was very popular with his adherents. He was in truth their leader, who kept the feud in commotion. The members of congress from Georgia, fearing the consequences of this state of parties, united in an application to the commander in chief, to assign General M'Intosh to another command out of the state, and supply his place with another officer of equal rank. The change was effected. General M'Intosh was ordered to join the grand army; and General Howe to take his place. The evil was not allayed, however, by this means; and the breach was yet far from being closed.

A party was formed in Savannah, whose avowed object it was to prevent the military power from encroaching on the civil. They assumed the popular name of " The Liberty Club." It had several branches in the different counties, which taking direction from that in Savannah, all acted in concert. This club, at length, attained to such power as to be able to control all appointments to offices in the state. During the time Colonel Walton acted as governor of Georgia, in 1779, a letter was forged by somebody, and transmitted to the president of congress, under signature of the speaker of the house of representatives ; which, by fair implication bore hard on the character of General M'Intosh. The speaker declared it a forgery. General M'Intosh charged Colonel Walton with a connivance in the imposture, because he gave credit to its contents, when in congress. He considered himself as unjustly accused, and much injured, by those concerned, in his military reputation. The matter, with the proofs, were laid before the legislature of Georgia, and they seemed to be embarrassed with the subject. To appease General M'Intosh, they recommended to the attorney general, to institute a prosecution against Governor Walton before the supreme court of that state, and passed a vote, censuring his conduct. At the same time, or rather on the preceding day, that same body had appointed him chief justice of the state, and placed him at the head of the only tribunal which could take cognizance of the complaint. Such an inconsistency do the records of that legislative body present. It is probably to be explained in-this manner. The times were critical. M'Intosh was an influential officer, whom they wished to pacify ; and for that purpose took this measure. At the same time they placed Governor Walton out of the reach of the complaint, by putting him at the head of the only court which held jurisdiction in the case. General M'Intosh and Judge Walton, were at that time respectively at the head of the civil and military departments in Georgia.

Mr. Walton had thus risen, as we have seen, from the condition of a carpenter's apprentice without education, to the highest honors and offices in the gift of the state ; and, from this time, until his death, he held the most respectable appointments which the people of Georgia could bestow on him.

Six times he was elected to congress ; twice governor of Georgia; once a senator of the United States, and a judge of the superior courts. He retained this last mentioned office during the term of fifteen years. In addition to these, he was one of the commissioners appointed by the United States, to negotiate a treaty with the Cherokees in Tennessee ; and he was also several times a member of the state legislature of Georgia.

Mr. Walton was married, in 1777, to Miss Camber. Their only issue was one son, who bore the name of his father. And when General Andrew Jackson was governor of West Florida, Mr. Walton held the office of secretary of state ; the duties of which station he fulfilled to the acceptance of the general government.

Mr. Walton was eons'' -a ardent temperament, -warm both in his attachments and enmities. One prominent characteristic of the man was decision. He partook not at all of a temporizing disposition. In his manner generally, he was stern, and kept the world rather at a distance. But he was attentive to merit; and towards young men of talents and genius he was respectful, and treated them with such amenity and kindness, as encouraged them to go forward with confidence in their honorable pursuits, lie possessed a native vein of satire, which he at times indulged with much effect. It is said of him, however, that he had this dangerous weapon under such thorough discipline, that he rarely indulged it in a way which gave offence to any. His manner of living was such, as subjected him to an early attack of the gout; which followed him with successive paroxysms, and an increasing severity to the close of his life. His desire for information, which so strongly marked the morning of his life, was perpetual; and when suffering under the excruciating attacks of his disease, he found, as he used to remark to his physician, " a book the most effectual remedy for mitigating his anguish."

Mr. Walton never accumulated wealth, as he seemed not to have sought for it, as necessary for his happiness. He lived contentedly, on the emolument of his offices, and the produce of a small farm. He was able, by these means to sustain the dignity of his official station, according to the views ant! estimation of the society with which he was connected. It was a fixed sentiment with him, never to suffer an office which he held to be degraded by the incumbent, in his style of living, or by submitting to any treatment which would be deemed disrespectful to official dignity.

He closed his eventful life on the second day of February, 1804, in the city of Augusta, in Georgia ; leaving in his enterprise and attainments, under many embarrassments, an instructive example to youths of aspiring minds, and to hia country an honorable character, whose duration will bo coeval with its independence and prosperity. -- The Lives of the Signers of the Declaration of Independence, By Nathaniel Dwight, Published by A.S. Barnes & Co., 1860, Edited by Stanley l. Klos 2000

Declaration of Independence
A Brief History and early record of the printings

Click Here


William Stone Copper Plate and 1976 Printing Photo
Courtesy of the National Archives
Click to Enlarge
Authenticate your Declaration of Independence - Click Here
The 56 signatures on the Declaration appear in the positions indicated:

Click Here to return to Rebels with of Vision

The Congressional Evolution of the United States Henry Middleton
Unauthorized Site: This site and its contents are not affiliated, connected, associated with or authorized by the individual, family, friends, or trademarked entities utilizing any part or the subject's entire name. Any official or affiliated sites that are related to this subject will be hyper linked below upon submission and Evisum, Inc. review.
Copyright© 2000 by Evisum Inc.TM. All rights reserved.
Evisum Inc.TM Privacy Policy