The Seven Flags of the New Orleans Tri-Centennial
Robert Treat Paine
Signer of the Declaration of Independence
ROBERT TREAT PAINE was born in Boston on March 11, 1731. He could trace his ancestry back to a colonial governor, an acting president of Harvard, and a signer of the Mayflower Compact. His father, Thomas, was pastor of a church in Weymouth for several years, but because of impaired health, resigned and engaged in mercantile pursuits in Boston. A bright, well-bred, popular youngster, Robert Treat Paine studied for seven years at the Latin School, then went on to Harvard College where he studied theology and law. However, while still a student at Harvard,his father's business failed and upon graduation in 1749, Paine had to teach in a country village – instead of running the family business as he had expected. 

Paine gave up teaching after one school term and for the next several years drifted from one job to another – peddling goods, sailing aboard whaling vessels, seeking fortune as a merchant, but he succeeded at none. He read law for a while in the district of Maine, which was then a part of Massachusetts. He acted as chaplain of the troops on the northern frontier in 1755 and subsequently preached in the pulpits of the regular clergy in Boston and vicinity. He went back and studied law, supporting himself by teaching and was admitted to the bar in 1757, two months after his twenty-sixth birthday. That same week his father died, passing on to his son the remains of a still-failing business.

He practiced law for a time in Boston and then removed himself to Taunton, Massachusetts, where he did well. When the Stamp Act was imposed, Paine opposed it with a fury and established himself as a knowledgeable attorney. In 1768, he was a delegate to the convention that was called at Boston after the dissolution of the general court by Sir Francis Bernard, governor of Massachusetts, for refusing to rescind the circular letter to the other colonies requesting them to act together for the public good. On March 15, 1770, he married the daughter of a local tavern keeper, Sally Cobb, sister of General David Cobb of the Revolution and they eventually had eight children.   

Late in 1770 Robert Treat Paine came more prominently into public notice by prosecuting with ability and ingenuity, the case against Captain Thomas Preston and his men for firing on the inhabitants of Boston, March 5, 1770 (The Boston Massacre). Lacking an attorney general, he conducted the prosecution on the part of Britain. John Adams, representing the defense, opposed Paine. 

Paine was elected to the general assembly from Taunton, and the Continental Congress in 1774. The Congress' duties at this time were to address the people of America, petition the King, state their grievances, assert their rights, and recommend the suspension of imports from Britain into the colonies. There Paine admitted to his friends that he dreaded "the mad rage of unrestrained liberty full as much as the arbitrary imposition of uncontrolled power."

At the Second Congress, Paine opposed almost every issue on the floor, and earned himself the name of "The Objection Maker". He was however, an unusually effective committeeman. He had been regarded as a rather more moderate Patriot for he was not entirely hopeless of reconciliation with Britain, as his signing the "Olive Branch Petition' had shown. In July 1776, however, he was resolute in support of the Declaration.
Paine was a member of Congress again in 1777 and 1778; during the intervals of the sessions he filled several important offices in the state of Massachusetts. In 1780, he was called to take a part in the deliberations of the convention, which met for the purpose of forming a constitution for the commonwealth. He was appointed attorney general, an office that he held until 1790, when he was appointed to the supreme judicial court where he remained till 1804 when he was 73 years old and became too deaf to serve.

Paine was a founder of the American Academy of Arts and Sciences, established in Massachusetts in 1780, and was active in it until his death. The honorary degree of Doctor of Laws was given to him by Harvard University in 1805. He died May 11, 1814 at 84 years old.

A partly printed Document signed on reverse "Paine." A judgment against the Estate of Elizabeth Robinson of Swanzy, County of Bristol, dated April 12, 1767, where Paine was practicing law at the time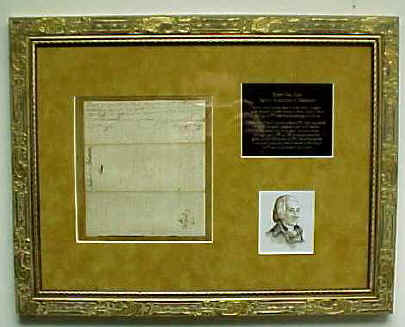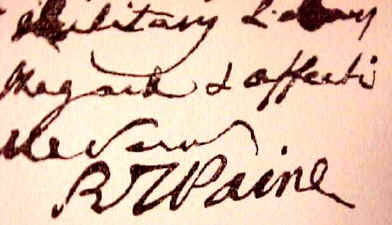 Source: Centennial Book of Signers
 

For a High-resolution version of the Stone Engraving
 

For a High-resolution version of the Original Declaration of Independence
We invite you to read a transcription of the complete text of the Declaration as presented by the National Archives.
&
The article "The Declaration of Independence: A History," which provides a detailed account of the Declaration, from its drafting through its preservation today at the National Archives.
Virtualology  welcomes the addition of web pages with historical documents and/or scholarly papers on this subject.  To submit a web link to this page CLICK HERE.  Please be sure to include the above name, your name, address, and any information you deem appropriate with your submission.
National Archives and Records Administration
| | |
| --- | --- |
| Control Number | NLK-JFKPP-HISDOCCOL-RTPAINE-9P |
| Media | Textual records |
| Descr. Level | Item |
| Collection | JFKPP |
| Series | HISDOCCOL |
| File Unit | RTPAINE |
| Item | 9P |
| Title | Robert Treat Paine Receipt March 13, 1787 |
| Dates | 03/13/1787 |
| Sample Record(s) | (larger access file - 46964 bytes) |
| Creating Indiv. | Kennedy, John F. |
| Record Type/Genre | Receipts |
| Scope & Content | Receipt signed by Robert Treat Paine, one of the signers of the Declaration of Independence. |
| Contributors | writer, Paine, Robert Treat |
| See Also | File Unit Description |
| Personal Ref. | Paine, Robert Treat; Kennedy, John F. (John Fitzgerald), 1917-1963. |
| Access | Unrestricted. |
| Use Restrictions | None. |
| Items | 1 item(s) |
| Contact | John Fitzgerald Kennedy Library (NLK), Columbia Point, Boston, MA 02125 PHONE: 617-929-4500 FAX: 617-929-4538 |

The Congressional Evolution of the United States Henry Middleton
Unauthorized Site: This site and its contents are not affiliated, connected, associated with or authorized by the individual, family, friends, or trademarked entities utilizing any part or the subject's entire name. Any official or affiliated sites that are related to this subject will be hyper linked below upon submission and Evisum, Inc. review.
Copyright© 2000 by Evisum Inc.TM. All rights reserved.
Evisum Inc.TM Privacy Policy