The Seven Flags of the New Orleans Tri-Centennial
Roger Sherman
Signer of the Declaration of Independence
ROGER SHERMAN was born in Newtown, Massachusetts on April 19, 1721.When Sherman was two years old, his family moved to Stonington, where he grew up in rather humble circumstances, without the benefit of much formal education.  He had a strong desire to learn and read widely in his spare time but he spent most of his waking hours helping his father with farming chores and learning the cobbler's trade. Sherman was apprenticed early to a shoemaker and at the age of nineteen, his father died and he became the principal care taker and financial supporter of his large family. It is said that while at work on his cobbler's bench, he usually would have an open book before him, so that the could devote every spare minute to study.
In 1743, two years after his father's death, Sherman traveled on foot and joined an older brother who had settled in New Milford, Connecticut. Here, in partnership with his brother, they engaged in the mercantile business. In 1745, he was appointed surveyor of lands for the county, a job he qualified for because of his early attention to mathematics. In 1749 he married Elizabeth Hartwell. Meanwhile, encouraged by a judicious friend, he was devoting his leisure hours to the study of the law and made such progress that he was admitted to the bar in 1754, without benefit of a formal legal education.
In 1755, he was elected a representative of New Milford in the general assembly of Connecticut, and the same year he was appointed a justice of the peace. Sherman prospered and assumed leadership in the community, and in 1759 he was made one of the judges of common pleas in Litchfield county.  In 1760, his wife Elizabeth died, leaving their seven children in his care. In 1761, Sherman moved to New Haven, where he managed two stores, one that catered to Yale students, and another in nearby Wallingford. He also became a friend and benefactor of Yale College, and served for many years as its treasurer. In 1763, three years after the death of his first wife, he wed Rebecca Prescott, who bore him eight more children.
Sherman's political career blossomed. He rose from justice of the peace and county judge to an associate judge of the Connecticut Superior Court and to representative in both houses of the colonial assembly. Although a Puritan and opposed to extremism, he promptly joined the fight against Britain and devoted himself unreservedly to the patriot cause. He was one of the most active members of the Continental Congress. Without showing gifts of popular speech, he commanded respect for his knowledge, judgment, integrity and devotion to duty. He served on many important committees, but the most decisive proof of the high esteem in which he was held was the fact that, along with Adams, Franklin, Jefferson, and Livingston, he was appointed to prepare a draft of the Declaration of Independence, to which document he subsequently affixed his signature. 
During the Revolutionary War, Sherman served in Congress and on the supreme court of Connecticut. He was elected New Haven's first mayor in 1784. 
At the age of sixty-six, he was selected as a representative of Connecticut to the Constitutional Convention. And in 1789, he helped prepare the Bill of Rights. Thomas Jefferson described Roger Sherman as "a man who never said a foolish thing in his life" and Nathaniel Macon declared that "he had more common sense than any man I have ever known". 
Roger Sherman is the only American to sign four important historical documents: The Continental Association of 1774; The Declaration of Independence; The Articles of Confederation; and The Federal Constitution.
The career of Roger Sherman most happily illustrates the possibilities of American citizenship. Beginning life under the heaviest disadvantages, he rose to a career of ever increasing usefulness, honor and success. He died at the age of seventy-two in New Haven on July 23, 1793, serving his country to the very end as a United States Senator.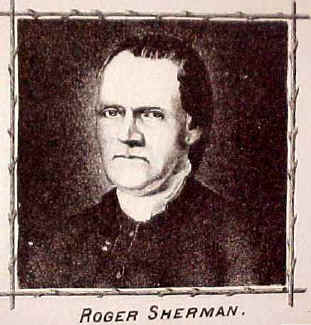 Source: Centennial Book of Signers
For a High-resolution version of the Stone Engraving


For a High-resolution version of the Original Declaration of Independence
We invite you to read a transcription of the complete text of the Declaration as presented by the National Archives.
&
The article "The Declaration of Independence: A History," which provides a detailed account of the Declaration, from its drafting through its preservation today at the National Archives.
Virtualology welcomes the addition of web pages with historical documents and/or scholarly papers on this subject. To submit a web link to this page CLICK HERE. Please be sure to include the above name, your name, address, and any information you deem appropriate with your submission.

The Congressional Evolution of the United States Henry Middleton
Unauthorized Site: This site and its contents are not affiliated, connected, associated with or authorized by the individual, family, friends, or trademarked entities utilizing any part or the subject's entire name. Any official or affiliated sites that are related to this subject will be hyper linked below upon submission and Evisum, Inc. review.
Copyright© 2000 by Evisum Inc.TM. All rights reserved.
Evisum Inc.TM Privacy Policy