Who was the First U.S. President?
There were actually four first Presidents
of the United Colonies and States of America
Click Here
2nd President of the United States
in Congress Assembled
July 10, 1781 to November 5, 1781

About The Forgotten Presidents' Medallions

© Stan Klos has a worldwide copyright on the artwork in this Medallion.
The artwork is not to be copied by anyone by any means
without first receiving permission from Stan Klos.
U S Mint and Coin Act - -- Click Here
The First United American Republic
Continental Congress of the United Colonies Presidents
Sept. 5, 1774 to July 1, 1776
| | | |
| --- | --- | --- |
| | September 5, 1774 | October 22, 1774 |
| | October 22, 1774 | October 26, 1774 |
| | May 20, 1775 | May 24, 1775 |
| | May 25, 1775 | July 1, 1776 |
 Commander-in-Chief United Colonies of America
George Washington:  June 15, 1775 - July 1, 1776
The Second United American Republic
Continental Congress of the United States Presidents 
July 2, 1776 to February 28, 1781
| | | |
| --- | --- | --- |
| | July 2, 1776 | October 29, 1777 |
| | November 1, 1777 | December 9, 1778 |
| | December 10, 1778 | September 28, 1779 |
| | September 29, 1779 | February 28, 1781 |
Commander-in-Chief United Colonies of America
George Washington:  July 2, 1776 - February 28, 1781
The Third United American Republic
Presidents of the United States in Congress Assembled  
March 1, 1781 to March 3, 1789
| | | |
| --- | --- | --- |
| | March 1, 1781 | July 6, 1781 |
| | July 10, 1781 | Declined Office |
| | July 10, 1781 | November 4, 1781 |
| | November 5, 1781 | November 3, 1782 |
| | November 4, 1782 | November 2, 1783 |
| | November 3, 1783 | June 3, 1784 |
| | November 30, 1784 | November 22, 1785 |
| | November 23, 1785 | June 5, 1786 |
| | June 6, 1786 | February 1, 1787 |
| | February 2, 1787 | January 21, 1788 |
| | January 22, 1788 | January 21, 1789 |
Commander-in-Chief United Colonies of America
George Washington:  March 1, 1781 - December 23, 1783 
Thomas Mc Kean, a signer of the Declaration of Independence, was born in New London, Chester County, Pennsylvania on March 19, 1734 and died in Philadelphia, Pennsylvania, June 24, 1817. Mc Kean's parents were both natives of Ireland. He studied with the Reverend Francis Allison, who was at that time, a renowned teacher of New Castle, Delaware. McKean was of Scottish-Irish descent and was a man of energetic personality, "with a thin face, hawk's nose and hot eyes."
McKean had important family connections in Delaware and used them to his advantage to pursue a career in politics. He was admitted to the bar before he was twenty-one years old, appointed deputy attorney general of Sussex County a year later, and served as clerk of the assembly from 1757 to 1759. In 1762 McKean, along with Caesar Rodney became reviser of laws that had been passed previous to 1752. In October of that year he was elected to the Colonial General Assembly, holding office for seventeen successive years, during the last of which he resided in Philadelphia.
Mc Kean was a trustee of the loan-office of New Castle County for twelve years, and in 1765 he was elected to the Stamp Act Congress. Had the votes in this body been taken according to the population of the states that were represented, Delaware's influence would have been insignificant. McKean, realizing this, successfully brokered a resolution giving, each colony an equal voice.
McKean was one of the most influential members of the Stamp Act Congress, serving on the com­mittee that drew the memorial to the House of Lords and Commons and, with John Rutledge and Philip Livingston, revised its proceedings. When business was concluded on the last day of its ses­sion, and Timothy Ruggles, the president of the body, as well as a few other timid members, refused to sign the memorial of rights and grievances, McKean arose, and insisted that the president give his reasons for his refusal. After a pause Ruggles remarked, "it was against his conscience." McKean then rang the changes on the word "conscience" so loudly and so long that a duel chal­lenge was given and accepted between himself and Ruggles in the presence of the congress. Ruggles hastily left the next morning at daybreak, so that the duel could not take place.
In July of the same year McKean was appointed sole notary of the lower counties of Delaware and judge of the court of common pleas, and of the orphans' court of New Castle. In November of 1765 he ordered that all the proceedings of this court be recorded on un-stamped paper; this was the first court in the colonies that established such a rule. He was collector of the port of New Castle in 1771, Speaker of the House of Representatives in 1772. In 1774 he was elected a member of the Continental Congress.
In September 1774, he had just married his second wife, Sarah Armitage of New Castle. His first wife, Mary Borden, the daughter of Joseph Borden of Bordentown, New Jersey, and sister of the wife of Francis Hopkinson, died in 1773, leaving him with six children. He would father five more children with his second wife.
 
He was the only member that served in Congress from its 1774 opening until the Treaty of Paris, representing Delaware until 1783. Mc Kean was chief justice of Pennsylvania from July 1777 until 1799; he also occupied a seat in the Delaware legislature until 1799. During Congressional session in 1776 he was a member of the committee to state the rights of the colonies, as well as a member of the secret committee to contract for the importation of arms. He was also selected to prepare and digest the draft of the Articles of Confederation to be entered into between the colonies, which he signed on behalf of Delaware in 1777. He superintended the finances and a variety of important measures in the Continental Congress.
At the Second Congress, McKean was a true fighter for independence. Since the Stamp Act of 1765, he had opposed British rule. He believed that the crown had "no right to regulate American affairs in any way". In June 1776, McKean returned to Delaware and gained authority for its delegates to vote for independence. Although he was particularly active in procuring the Declaration to which his name is subscribed to the engrossed instrument, McKean does not, through a mistake on the part of the printer, appear as a subscriber in the copy published in the Journal of The Continental Congress. A few days after McKean cast his vote, he left Congress to command a battalion of troops to assist Washington at Perth Amboy, New Jersey. He, therefore, was not available when most Signers placed their signatures on the Declaration on August 2, 1776. There is considerable question as to when McKean did actually signed the Declaration of Independence in 1776. He claimed in old age that he attached his name some time in 1776, but his name did not appear on the printed copy that was authenticated on January 17, 1777. It is assumed that he signed after that date while attending Congress in Philadelphia.
In July 1776, he was served as chairman of the delegates from New York, New Jersey, Delaware and Pennsylvania committee. In that same year, his talents were so much in demand that the Delaware delegate also served as chairman of the Pennsylvania committees of safety and inspec­tion as well as the Philadelphia committee of observation. On his return to Dover McKean found a committee awaiting him to urge him to prepare the Constitution of Delaware, which he drew up on the night of his arrival, and which was unanimously adopted by the assembly the next day.
In 1777, while acting in the double capacity of President of Delaware and Chief Justice of Pennsylvania, he describes his perils in a letter to his intimate friend, John Adams, as
"hunted like a fox by the enemy, compelled to remove my family five times in three months, and at last fixed them in a little log-house on the banks of the Susquehanna, but they were soon obliged to move again on account of the incursions of the Indians."
As a delegate to the Continental Congress he was present when the Articles of Confederation were ratified on March 1, 1781. By virtue of this ratification the ever fluid Continental Congress ceased to exist and on March 2nd "The United States in Congress Assembled" was placed at the head of each page of the Official Journal of Congress. The United States of America, which was con­ceived on July 2, 1776, had finally been born in 1781 under the 1st U.S. Constitution.
By May of 1781, President Huntington's health began to fail. Huntington, despite the pleadings of the delegates, tendered his resignation as President on July 6, 1781. The United States in Congress Assembled Journals reported:
"The President having informed the United States in Congress assembled, that his ill state of health" ... not permit him to continue longer in the exercise of the duties of that office".
Congress held off electing a new President until July 10th in the hope that Huntington would recover and reconsider. On July 8th, 1781 Thomas McKean wrote to Samuel Adams of the summer events:
"Since you left us we have been going on nearly in the old tract, tho' the General Assemblies of this State, Delaware and Maryland, by their late exertions (being at last thoroughly roused) have granted such effectual Aids, as must enable us in a little time to hold up our heads again. The Army under General Green has been successful; Augusta in Georgia and all the enemies posts in that State, except Savanna, are cer­tainly in our possession; and I believe Fort Ninety Six, and all other Posts of the enemy in South Carolina, except Charles-Town, are also wrested from them. There were an hundred barrels of powder, and a considerable quantity of other military Stores and provisions, found in Augusta, and about five hundred Prisoners taken there and in its neighbourhood. A general exchange of prisoners has taken place to the Southward, and our good old friend General Gadsden is expected here in a few days. All the Refugees and Tories taken on our part have been given up for all our Militia taken by the enemy; this was agreed to without any reference to numbers or rank on either side.
A new President of Congress is to be chosen tomorrow, as Mr. Huntington will not continue any longer; this honor is going a begging; there is only one Gentleman, and he from the Southward, who seems willing to accept, but I question whether he will be elected. There are some amongst us, who are so fond of having a great and powerful man to look up to, that, tho' they may not like the name of King, seem anxious to confer kingly powers, under the titles of Dictator, Superintendent of Finance, or some such, but the majority do not yet appear to be so disposed.
The Harvests in Pennsylvania and the adjoining States promise to be double in quantity and better in quality than in any year during the last twenty, and the whole Country teems with fruit. In short that good Providence that has protected and blessed us hitherto, appears now to take us under his most particular care; for everything augurs well."
Surprisingly, this letter gives no indication on July 8th that Thomas McKean was even considering a candidacy for the first election, "this honor is going begging," of the President of the United States.
It was no wonder that McKean didn't seek the office as these were perilous times. On July 6, 1781 General Cornwallis moved along the James River at Green Spring, Virginia towards YorkTown and set a trap for the young French General. Cornwallis hid the fact that his entire detachment had not crossed the River but lied in wait for the Continental Army to attack what appeared to be his rear guard and some bag­gage. Continental reinforcements arrived just in time to capture this British prize and Wayne now had 900 men. Fortunately Lafayette uncovered the plot, never attacked and halted Wayne's engagement into a well-organized retreat of all the continental forces along the James River. The Marquis de Lafayette just barely escaped, along with General Wayne, what could have been a crushing defeat for the United States along the James River.
On July 7, 1781, General Cornwallis with Lafayette in full retreat finished crossing the James River on his march to Yorktown, Virginia. On the 8th of July Cornwallis received orders from General Clinton to now send the 3,000 men to capture Philadelphia and disrupt the new Federal Government. On July 9th Cornwallis once again detached Lt. Colonel Tarleton to destroy supplies and stores in Virginia.
During this time the United States in Congress Assembled elected a second Confederation President and it was not Thomas McKean but Samuel Johnston of North Carolina. Johnston declined holding the office and another election was ordered.
On July 10th Delegate Thomas McKean was elected as the second President of the United States in Congress Assembled and was first to be elected under a ratified Articles of Confederation, as President Huntington assumed the position as the former President of the Continental Congress.
Thomas McKean came into the presidency at the beginning of the end of The Revolutionary War. His first dispatch on July 11th was granting permission to James and William Winthrop of Massachusetts
to occupy the barracks, standing without the fortifications on Governor's Island, in the harbor of Boston, for the purpose of a barn.
His last military letters in November as President would be to congratulate a host of military leaders on their success at Yorktown.
So revered was this office by Thomas McKean that this U.S. Presidency would be eventually used to turn down his party's 1804 nomination for Vice President under Thomas Jefferson with the former President stating:
"... President of the United States in Congress Assembled in the year of 1781 (a proud year for Americans) equaled any merit or pretensions of mine and cannot now be increased by the office of Vice President."
Although McKean's tenure as US President was quite brief, it was an eventful period in US History, beginning with Samuel Johnson the first President of the United States in Congress Assembled duly elected under the Articles of Confederation declining the office with the Journals recording July 10th:
"Mr. [Samuel] Johnston having declined to accept the office of President, and offered such reasons as were satisfactory, the House proceeded to another election; and, the ballots being taken, the hon. Thomas McKean was elected.."
18th Century Journal of the United States in Congress Assembled reporting the election of Thomas McKean - Courtesy of the Author.
Thomas Rodney's letter to Caesar Rodney of Delaware dated the same day reported:
P.S. Congress has been endeavouring some time past to elect a new President Mr. Huntington having often applied for leave to go Home on Account of his health and private affairs, and Yesterday Mr. Johnson of N. Carolina was appointed but he declined it on Account of his Bad State of health, and To day Mr. McKean was appointed and prevailed on to serve Till October next at Which Time he says he is determined To decline serving in Congress any longer
The reasons for Johnson's refusal to not serve are unclear but some historians claim his letter of July 30th 1781 clearly indicated he was in no position to accept an office which offered no salary:
"Having no prospect of being relieved or supplied with money for my expenses and my disorder, which abated a little on the first approach of warm weather, returning so as to render me of little use in Congress I left Philadelphia the 14th, for which I hope I shall be held excusable by this state.."
Johnston's letter to James Iredell only one month earlier supports that conclusion for not accepting the U.S. Presidency reporting:
"I thought about this time to be making preparations for leaving this place, but none of my colleagues appearing to relieve me, several States being unrepresented in Congress, and affairs of the first magnitude being now on the tapis, I thought it incon­sistent with my honor to leave the State unrepresented at so interesting a period. Notwithstanding my anxious impatience to return to my family, I have determined to stay till I am relieved, or at least till the States are more fully represented in Congress. I don't doubt but you and my sister will offer such reasons to Mrs. Johnston as will rec­oncile her to this measure. I hope she will keep up her spirits and if I should not return before the sickly season, I wish you would prevail on her to take the children down to the sea-side, if it can be done with safety; but as I have hopes of returning before that time, it will be unnecessary to say any thing on the subject till the season approach­es.
The uncertainty of a letter's getting safe to you, lays me under great restraints. I can only mention in general that the King of France has given us under his own hand very lately, the most unequivocal assurances of his friendship and support, and is at this time exerting his interest and influence at the different courts in Europe to bring our affairs to a happy and speedy conclusion; and I have in my own mind the most perfect confidence in these assurances. We shall suffer much in this campaign; it will be very bloody, but I hope it will be the last. I may be disappointed, but was I at lib­erty to commit my reasons to writing, you would not hesitate to subscribe to my opin­ion.
Our prospects are very fair in Europe, but it is necessary we should exert ourselves here, for every advantage we gain this summer will count as so much solid coin. We are in daily expectation of hearing from the General, who has been lately at Connecticut to consult the officers of the French army and navy. My hopes and expec­tations of a favorable issue to our troubles are very sanguine; but human affairs are governed by such a variety of whimsical circumstances, that we should always be pre­pared to stand the shock of that disappointment which the best concerted measures are constantly subject to. Present my love to my sisters, the children, and all friends. Let my brother see this and the newspapers, when you have an opportunity. I present my best wishes to him, and his family. I wish much to hear from you and him, and am, with the most sincere affection and esteem,"
On June 27th just 13 days before his election to the Presidency Johnson also writes:
I was only yesterday favored with the letters which you were so obliging as to write me the 14th of April and 10th of May last. I have wrote to you frequently by casual opportunities, but cannot have any confidence of your having received my letters. I write by this opportunity to my brother, and must refer you to his letter and the enclosed newspaper for news. I am sorry people were in such haste to remove themselves and property from Edenton. I rather could have wished they had thought of defending it, which would have been attended with less risk and expense in my opinion, for till the conquest of Virginia is effected, which I flatter myself will not speed­ily take place, I scarcely think you will be molested with any considerable invasion, and if the plundering parties meet with opposition they will grow sick of the business. However, every one will and has a right to judge for himself on these occasions. So far as it respects me, I am perfectly satisfied, and shall ever consider myself under the high­est obligations to you on this occasion for your friendly attention. I have been detained here longer than I expected from unavoidable circumstances, which I shall have the pleasure of communicating when I can see you. I hope to leave this place some day next week but as it will be necessary for me to take a pretty extensive circuit to avoid the enemy's horse, and the weather being too warm for me to make long days' jour­neys at this season, I cannot form to myself any judgment respecting the time I shall arrive with you. I am truly sensible what anxiety and distress you must all have sustained in your alarming situation. I have often wished to have been with you on the occasion; indeed my mind has been so much in that country, that it has rendered me almost incapable of attending to any thing elsewhere. This will probably be a very important, though perhaps not a decisive campaign. I am not perfectly informed of the plan on which it will be conducted on our part, nor is it proper that I should communicate so much as I do know to paper. Should a few fortunate events cast up in our favor, I hope there will be no more of it after this summer-if otherwise, God knows where it will end, for America can never submit.
Pray remember me most affectionately to my sister and the children. I grow every day more impatient of being absent from my friends; and had I not believed my services, or rather my vote essentially necessary here for some time past, no importunity should have detained me.
North Carolina, with Samuel Johnson's decline, lost the opportunity to declare that one of her sons held the Presidency of the United States in Congress Assembled.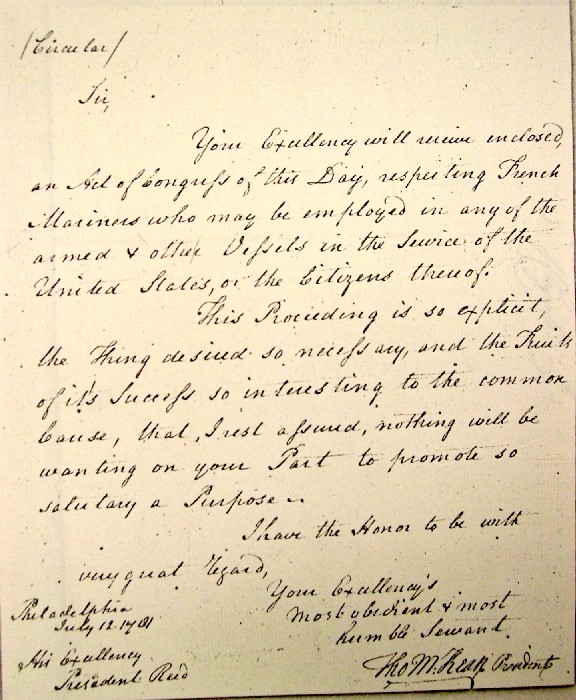 President Thomas McKean Autograph Letter Signed to President Reed of the Supreme Council of Pennsylvania discussing French Marines - Courtesy of the Author.
McKean's Presidency is most curious for another reason. The Signer was elected as a Delegate of Delaware but in 1781 he was also serving as Chief Justice of Pennsylvania. The opposition of many Pennsylvanians against his Presidency was vicious due to his affiliation with both States and maintaining that in Congress he represented Delaware. Born in Pennsylvania, he remained stead­fast in his right to serve in both positions and did not resign the Chief Justice office.
Particularly, a Mr. Tenax's attacks on McKean for serving in the dual offices of Chief Justice and President did, however, elicited several public responses from President McKean. Two were printed in The Freeman's Journal during July and August of 1781. On August 6th McKean writes:
"QUERIES to TENAX. Do you not know, that the chief justice of Pennsylvania, was, at the time of his appoint­ment, speaker of the house of assembly, soon after commander in chief, and for near four years since constantly a delegate for the Delaware state?
If so, and you thought it a violation of the constitution, why did you not heretofore mention it to him, or publish your sentiments as you have now done? Do you not know that the honorable William Henry Drayton, esq. sat in congress for two years as a member of South Carolina, being at the same time chief justice of that state; that the honorable William Paca, esq. was at the same time chief justice and a member of congress for the state of Maryland; that the honorable John Jay, esq. was chief justice of New-York during the time he was president of congress; that the hon­orable Samuel Huntington, esq. the last president of congress, was, during the whole time, a justice of the supreme court of Connecticut; and that there are several of the present members of congress who are justices of the supreme court in their respec­tive states?
Can the chief justice of Pennsylvania sit upon the decision of any controversy between that state and any other; or can a delegate for the Delaware state have any share in determining whether the islands in the river belong to Delaware or Pennsylvania?

Have you ever read the confederation of the several states, or do you understand it? <![if !supportLineBreakNewLine]>
<![endif]>
Do you understand the doctrine of replevins, impeachments, or the rights of sovereign independent states?
Would it not be adviseable to qualify yourself in this respect, before you assume the office of REFORMER or CENSOR-GENERAL? <![if !supportLineBreakNewLine]>
<![endif]>
Are you so regardless of all reputation as to persist in an error in spite of conviction?"
More on Thomas McKean  -- Click Here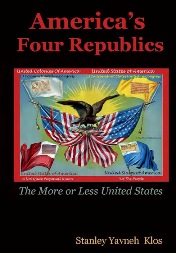 In this powerful, historic work, Stan Klos unfolds the complex 15-year U.S. Founding period revealing, for the first time, four distinctly different United American Republics.  This is history on a splendid scale -- a book about the not quite unified American Colonies and States that would eventually form a fourth republic, with only 11 states, the United States of America: We The People. 

The Congressional Evolution of the United States Henry Middleton
Unauthorized Site: This site and its contents are not affiliated, connected, associated with or authorized by the individual, family, friends, or trademarked entities utilizing any part or the subject's entire name. Any official or affiliated sites that are related to this subject will be hyper linked below upon submission and Evisum, Inc. review.
Copyright© 2000 by Evisum Inc.TM. All rights reserved.
Evisum Inc.TM Privacy Policy