The Seven Flags of the New Orleans Tri-Centennial
"Ask Brother Jonathan"
Washington Aide-De-Camp
---
JONATHAN TRUMBULL was born in Lebanon, Connecticut, the son of Joseph Trumbull, October 12, 1710 and died August 17, 1785. Trumbull was a merchant and governor of Connecticut during the American Revolution. He was the only colonial governor who supported the independence movement. Relying on his prior experience in trans-Atlantic trade, he played an important part in obtaining supplies for and provisioning the Continental Army. With Trumbull's leadership, Connecticut shipped supplies as far afield as Valley Forge. Before becoming governor, Trumbull held several legislative and judicial posts. He was educated at Harvard College where he prepared for the ministry. These plans suddenly changed in early 1732 when Joseph Jr. was lost at sea aboard a brigantine vessel named The Lebanon bound for the Barbados.
Upon the death of his older brother, Jonathan abandoned the ministry, and took the place of his older brother in his father's business. Because of his competence and the failing health of his father, Jonathan was managing all the family business within four years of his brother's death. Jonathan's experience as a merchant proved to be valuable during the revolution when procurement of supplies for the Continental Army with almost worthless Continental notes required tact and diplomacy.
Jonathan Trumbull's notoriety in Lebanon as a successful businessman grew and he was elected to the General Assembly. In 1735, Jonathan Trumbull married Faith Robinson (1718 -1780), a direct descendent of John and Priscilla Alden. This marriage raised Jonathan's status to one of almost nobility, having married into the direct lineage of the first settlers of New England. Their marriage produced six children, Joseph (1737 - 1778), Jonathan Jr., (1740 - 1809) the second of four "Governor Trumbulls", Faith (1743 - 1775), Mary (1745 - 1831), David (1751- 1822) and John (1756 - 1843) a famous early American painter.
The wisdom and respect that Jonathan Trumbull had earned allowed him to hold positions in the Colonial general assembly beginning in 1733. During the French and Indian War, Jonathan served as a colonel of the Twelfth Connecticut Regiment. From 1766 until 1769, Jonathan Trumbull served as Deputy Governor of Connecticut. From 1769 until his retirement in 1784, Jonathan Trumbull was the Governor of Connecticut. During his term, he redefined the role of governor from mostly a powerless figurehead to a mastermind in the logistics of running the state.   
Jonathan Trumbull was the only colonial governor to hold his job for the periods of time before and after the Revolutionary War. Jonathan was instrumental in providing Continental Army troops with provisions. He arranged for numerous cattle drives that originated in Hartford to supply General Washington's almost starving troops in Valley Forge and Morristown with provisions. Because of his efforts, Connecticut was referred to as the "Provisions State" and Jonathan, its governor was referred to as "Brother Jonathan" by General Washington because of his passionate ability to raise supplies for the needy Continental Army. Jonathan mobilized Connecticut's resources and encouraged the manufacture of items within Connecticut to support the war effort.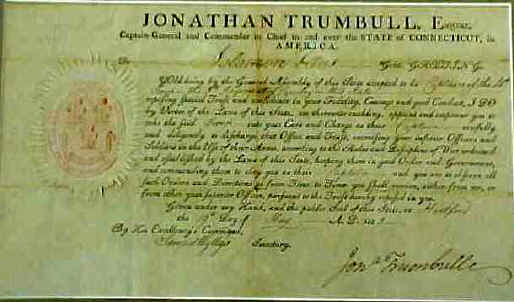 Document signed May 19, 1802, oblong legal folio, appointment of Solomon Petus as "Captainof the 4th Troop in the 8th Regiment of Cavalry. Framed.

The Congressional Evolution of the United States Henry Middleton
Copyright© 2000 by Evisum Inc.TM. All rights reserved.
Evisum Inc.TM Privacy Policy